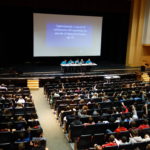 Rotary brings together a global network of volunteers who dedicate their time and talent to tackle the world's most pressing humanitarian challenges. Rotary connects 1.2 million members from more than 200 countries and geographical areas. Their work impacts lives at both the local and international levels, from helping families in need in their own communities to working toward a polio-free world.
Rotary also offers expanded service opportunities including Interact, a service organization organized and sponsored by Rotary clubs for young adults aged 12-18. There are more than 12,300 Interact clubs in 133 countries. One service project that Interact teens helped launch is  international mental health  and wellness promotion.  It is called  Peer Leadership & Depression Prevention or the Emotional Wellness project.  Here is a flyer about it:  Interact tri-fold 2016-2017.  Interact clubs in every community are encouraged to replicate it: procedure-manual-interact-peer-leadership-and-depression-prevention.
If there is no nearby Interact club, you may start one with this Interact certification form.  The wellness project can be implemented locally or in communication with other Interact clubs in the US, Puerto Rico, India and beyond.
Rotary offers global grants so clubs in different countries can collaborate to help each other implement the wellness project. They teleconference to share ideas and experiences implementing. For example, peer leaders in Puerto Rico spoke with the Interact club of We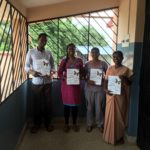 llesley, MA. Their project manager was Dr. Johnny Rullan, Puerto Rico's former Director of Health.  The TASIS Dorado, Robinson and Carbbean schools  participated as part of that global grant project. Most recently, several schools in India participate.
The wellness project includes the Boston Children's Hospital Break Free From Depression curriculum which has been taught to over 12,000 students.  Younger students (down through grade 4) are introduced to the virtual Wellness Center within Whyville.net.  Peer leaders are trained to help integrate the activities into family, community, and school settings to:
improve grit / resilience
decrease stigma
increase awareness
identify a network of adult 'gatekeepers' to simplify help seeking
Here is Nicole summarizing the project:

~~~~~~~~~~~~~~~~~~~~~~~~~~~~~
Besides co-facilitating content in classrooms they normalize the conversation with public art installations, blogs (WellesleyInteract.wordpress.com) and video clips.
Adult beneficiaries include the:
administrators and teachers in each school
parents invited to participate in parent meetings
community liaisons (e.g., mental health providers) invited to participate as community supports.
Interact peer leaders in each country present outcomes to their local Rotary club and annual district conferences.
article –1 in 100
article – Teens Leading the Way
To learn more about starting or joining an Interact club,   or to learn details about the global grant template to replicate the Wellness Project please contact Bob Anthony by email BobAnthony@AdolescentWellness.org or telephone (781) 727-8617.  To learn about additional projects by Rotary and Interact, this five minute video was presented to Massachusetts Governor Baker in September: