Teens, parents, educators and health care providers gathered at the 8th annual  Winter Blues celebration.  The theme, Symbols of Wellness, highlighted activities for preventing anxiety and depression, ranging from puzzles to curricula.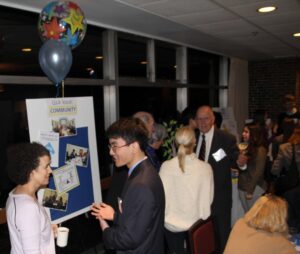 Teen mentors staffed the Community Q & A kiosk during the Winter Blues celebration. They also spent a few minutes at the podium to say that stress was universal and that exercises are available for everyone to cope in healthier ways.
Dr. Nadja Reilly spoke of the mentors here coaching mentors at the Robinson School in San Juan, Puerto Rico.  Dr. David DeMaso spoke of preventing depression and suicide; full comments may be viewed online by clicking the video image below.