Adolescent Wellness, Inc. (AWI) promotes mental health and prevention.
The AWI goal is for every youth to get through adolescence without developing symptoms of anxiety or depression. There are biological and social factors but one can directly influence  the psychological factors by exercising activities to enhance coping skills.
Children grow more able to balance the weight of life's worries by developing grit, or resilience, to overcome challenges and crises through better coping skills. To be explicit, a case of depression is prevented for every twenty-two  youth practicing better coping skills ("The number needed to treat to prevent one case of depressive disorder was 22."  ~Am J Psychiatry 2008; 165:1272–1280).
Curricula with the activities to build coping skills were developed in collaboration with:
Boston Children's Hospital
William James College
McLean Hospital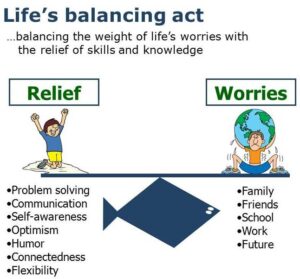 Sign up for the AWI newsletter by clicking here.
Would you like better test scores? 
Academic performance is strongly correlated to emotional wellness.  Social and emotional learning (SEL) improves performance of an entire grade by 11 points on standard achievement tests, moving the average from the 50th percentile to the 61st percentile (~Weissberg R. & Durlak J., 2011).  The SEL activities improve every child's:
relationships
social awareness
self-awareness
self-management
decision making