If you will be near Boston on the evening of Thursday, January 22, please plan to attend Symbols of Wellness, our 8th annual Winter Blues event. The keynote speaker is Dr. David DeMaso, Psychiatrist in Chief at Boston Children's Hospital. He will discuss coping skills practiced by healthy kids, especially self-awareness. You will also meet some of the Rotary Interact teens who coach these skills with peers as part of an international wellness project.   

View details by clicking here.
Adolescent Wellness, Inc. (AWI) promotes earlier exercise by all kids of activities that prevent anxiety and depression.  If a child gets through adolescence without symptoms, he or she is far less likely to develop depression.
Often called grit, or resilience, coping skills and knowledge strengthen one's ability to overcome challenges and crises,  more able to balance the weight of life's worries. Every 22 youth practicing better coping skills prevents 1 case of depression ("The number needed to treat to prevent one case of depressive disorder was 22."  ~Am J Psychiatry 2008; 165:1272–1280).  The activities to build coping skills were developed in collaboration with:
Boston Children's Hospital
Massachusetts School of Professional Psychology
McLean Hospital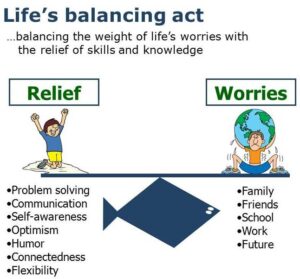 Sign up for the AWI newsletter by clicking here.
Would you like better test scores? 
Wellness is strongly correlated to academic performance.  On average, social and emotional learning (SEL) improves performance of the entire grade 11 points on standard achievement tests, moving the average from the 50th percentile to the 61st percentile (~Weissberg R. & Durlak J., 2011). It is clear that skills and knowledge related to social and emotional development are interrelated with the intellectual development that youth need for academic success.  The SEL skills are:
relationships
social awareness
self-awareness
self-management
decision making