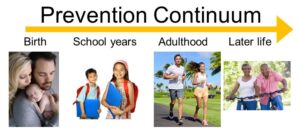 The goal of Adolescent Wellness, Inc. (AWI) is for every youth to grow into maturity without developing symptoms of anxiety or depression. AWI helps pilot or promote prevention and referral resources to bring into your home and community. The activities enhance skills in:
problem solving
coping
referral
Sign up for the AWI newsletter
Did you know
…that 1 in 5 cases of depression are preventable? One case of depression is prevented for every twenty-two youth practicing better problem solving and coping skills ("The number needed to treat to prevent one case of depressive disorder was 22."  ~Am J Psychiatry 2008; 165:1272–1280).