What we know
1 in 5 cases of depression are preventable. The same problem solving and coping skills also flag earlier treatment where symptoms still develop.
One case of depression is prevented for every twenty-two youth practicing better problem solving and coping skills ("The number needed to treat to prevent one case of depressive disorder was 22."  ~Am J Psychiatry 2008; 165:1272–1280).
Problem solving and coping
Activities are available for all ages; see examples in the Curricula section.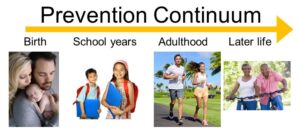 The goal of Adolescent Wellness, Inc. (AWI) is for every youth to grow into maturity without developing symptoms of anxiety or depression. AWI helps pilot or promote prevention and referral resources to bring into your home and community.
Referral
Different areas of each state have more or less coverage by specialists. Nationally, the first step is to speak with the pediatrician. Some additional options exist: